Published by Vancouver's Thomson Stationery Company in 1910, the "Chinese and English Phrase Book and Dictionary" depicted here, was designed to help newcomers learn English words and expressions for use in their daily life and work. These photographs of selected spreads deliver insights into the conditions migrants faced – whether at sea, in kitchens and canneries, or building railways and gold mining.
This series was created in response to the commemoration of Canada's 150th anniversary of confederation in 2017 and for the "And…" group exhibition in Prince George, BC. It is vital to acknowledge that our national story includes workers of colour whose labour helped develop this land, but who are not its first inhabitants, and that Canada continues to be built on precarious migrant labour.
Thank you to UBC Library Rare Books and Special Collections for their kind support in allowing me to photograph this historic artifact. It is available for in-person viewing and has also been digitized online.
I lived there before 1st July, 1886, 12 in x 18 in, inkjet print, 2017
I lived there before 1st July, 1886 (detail view), 12 in x 18 in, inkjet print, 2017
No, the tide is against us, 12 in x 18 in, inkjet print, 2017
No, the tide is against us (detail view), 12 in x 18 in, inkjet print, 2017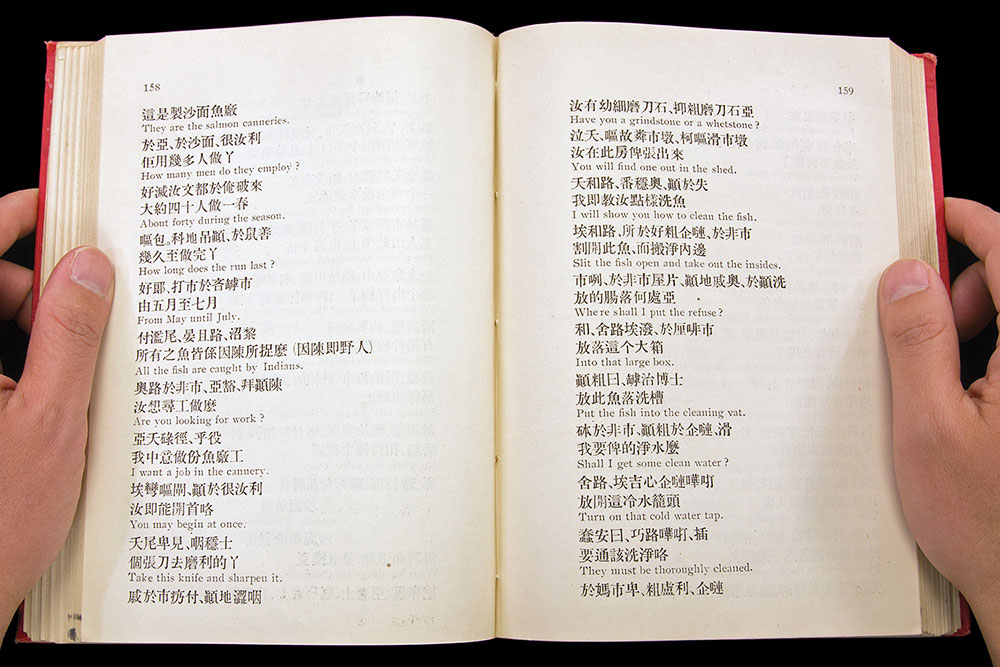 All the fish are caught by Indians (detail view), 12 in x 18 in, inkjet print, 2017
You would be put to a lot of trouble (detail view), 12 in x 18 in, inkjet print, 2017
That is a warning for the men (detail view), 12 in x 18 in, inkjet print, 2017
This is not enough for me, 12 in x 18 in, inkjet print, 2017
This is not enough for me (detail view), 12 in x 18 in, inkjet print, 2017